Quartiles
Understanding Quartiles is important to ensure your success in tests, assessments and exams.
All Resources By Course
| | |
| --- | --- |
| S1 & S2 Maths | HERE |
| National 5 Maths - Whole Course Page | HERE |
| N5 Maths Exam Formulae List | HERE |
| Higher Maths - New Website | HERE |
| AH Maths - New Website | HERE |
| GCSE Maths | HERE |
| All Other Courses | HERE |
Quartiles Resources
About Quartiles  
It is a type of quantile which means equal size group.
Q1 is the middle number between the smallest number and the median of the data set
Q2 is the median of the data
Q3 is the middle value between the median and the highest value of the data set
The list size dictates the position of the quartiles as shown below: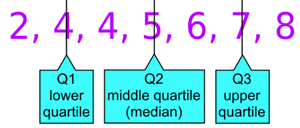 Once the quartiles have been found, you may be asked:
To draw a box plot
Comment on the spread (semi-interquartile range) 
Comment on the median
Study Gudes
We cover everything you need to know about Quartiles in the Study Guides.
Passing your Maths exam significantly increases your career opportunities. Subscribing to the wealth of fantastic additional resources in the Online Study Pack may therefore be one of your best ever investments.
If you are looking for a 'good' Pass then give yourself the best possible chance of success in 2018/19 by being fully prepared and subscribe to the complete Online Study Pack today!
Get the Study Pack - just £9.99