Vectors
Understanding Vectors is important to ensure your success in tests, assessments and exams.
All Resources By Course
| | |
| --- | --- |
| S1 & S2 Maths | HERE |
| National 5 Maths - Whole Course Page | HERE |
| N5 Maths Exam Formulae List | HERE |
| Higher Maths - New Website | HERE |
| AH Maths - New Website | HERE |
| GCSE Maths | HERE |
| All Other Courses | HERE |
Vector Resources
About Vectors
Any quantity which can be measured is either a scalar or a vector.
A scalar quantity only requires magnitude (size) to define it. Examples of scalar quantities are:
Time – 4 seconds, 3 days
Speed – 20 mph,  25 km/hr
Length – 5 mm, 12 m, 160 km
A vector quantity requires magnitude (size) and direction.
An example of a vector is force. When a force is applied to a snooker ball, knowing how much force (strength) is not enough information. We need to know the direction of the force being applied on the ball to have an idea where the ball will end up.
A vector can be represented by a directed line segment.
.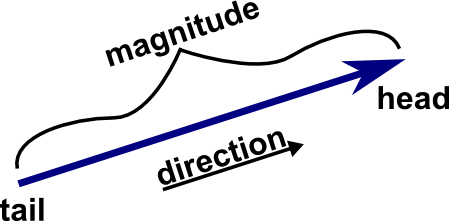 The magnitude of the vector is represented by the length of the line.
The direction of the vector is shown by the arrow.
Study Guides
We cover everything you need to know about Vectors in the Study Guides.
Passing your Maths exam significantly increases your career opportunities. Subscribing to the wealth of fantastic additional resources in the Online Study Pack may therefore be one of your best ever investments.
If you are looking for a 'good' Pass then give yourself the best possible chance of success in 2018/19 by being fully prepared and subscribe to the complete Online Study Pack today!
Get the Study Pack - just £9.99